Pondering how much I need a road trip, finds me re-posting this "snapshot" .
notestoponder
Cut Knife Saskatchewan boasts the world's largest tomahawk. Over 50 feet tall, it towers over the landscape, dwarfing  the tired homes and dusty main street.  Not visible from the highway, it sits hopefully on the edge of a tidy, empty camp-ground, waiting for travellers lucky enough to  remember what a road trip is. Mid afternoon and the only sign of life is a run down cafe where the waitress sits playing cribbage with a gentleman older than the peeling linoleum.
Ponder the road trip. Once the backbone of summer vacation, replaced by "all inclusive", fading into obscurity. We can't understand our world unless we look at it. It can't be seen from a swim up bar….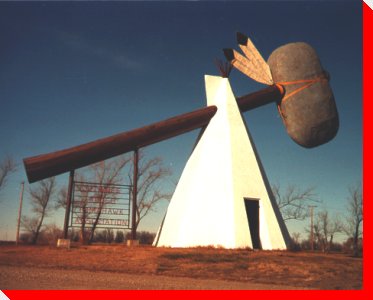 World's Largest Tomahawk
Cut Knife, SaskatchewanPhoto by Gerry Fox