Beginning September 10, 1941 astronomers noticed a particularly active cluster of sunspots. Over the next week they blossomed, reaching magnitudes visible to the naked eye. For seven days the disturbance grew, drifting with solar rotation until they faced Earth. Seventy five years ago today they erupted, resulting in a solar event known as the geomagnetic blitz of 1941.
"A magnetic observatory in Cheltenham, Md., operated by the U.S. Coast and Geodetic Survey, registered six separate occurrences of geomagnetic storms with a K index of 9 (the most intense value possible). Five of these occurred consecutively over a 24-hour period. In terms of a related global index , the level of geomagnetic activity over a 24-hour period has not since been matched."
An artistic graphic on sunspots that accompanied an informational story in The Plain Dealer's syndicated "Uncle Ray's Corner" column, published in the Illinois State Journal on 21 September 1941, a few days after a geomagnetic storm produced spectacular auroral displays. Credit: Plain Dealer Archive/Advance Media and State Journal Register
Assertive auroras danced from New Mexico to Chicago, New York and Washington DC. The Chicago Tribune wrote "a cosmic brush painted the Chicago sky with light". Auroras across Europe were described by press in context of the war – illuminated by geomagnetic light, the British Royal Air Force bombed a German supply base on the Baltic Sea, and German forces stormed besieged Leningrad. Betrayed by aurora's light, German aircraft attacked a convoy of Allied supply ships.
"Kapitänleutnant Eitel-Friedrich Kentrat of U-74 recorded the ensuing events in his war diary [Morgan and Taylor, 2011, pp. 119–123]: "September 18, 1941, visibility 4–6 nautical miles, a number of smoke plumes on the horizon, vessels seem well strung out." Kentrat had spotted SC-44, a Canadian convoy of cargo ships. For protection, a destroyer and small antisubmarine warships known as corvettes escorted SC-44 along its journey.
At 22:30 UT, Kentrat issued a radio dispatch to headquarters and the other Brandenburg U-boats, "Alpha. Alpha. Enemy convoy in sight. Quadrant AD9761. Course NE, moderate speed. U-74." Unsure whether his compatriots received his message, he recorded in his diary that since 04:30 UT on 18 September, "short-wave radio reception has been very poor and it gradually cuts out altogether. We try absolutely everything but without success. I hope the other Brandenburg boats can receive me." Unbeknownst to Kentrat, his radio problems were caused by the magnetic storm and the ionospheric disturbance that followed.
As the Sun set, the sea haze lifted. Under such conditions, a wartime convoy would normally have been relatively securely hidden in the dark of night. But not this night. The sky was ablaze with the aurora borealis. Kentrat described the conditions as being "as bright as day." Ironically, in a postwar interview [Johnston, 2008, p. 38], a crewman on board a ship in the convoy, the SC44 corvette HMCS Lévis, recalled seeing the aurora on that evening and remarking to a fellow crewman, "What a night for a torpedoing." This bit of dark humor would turn out to be prophetic.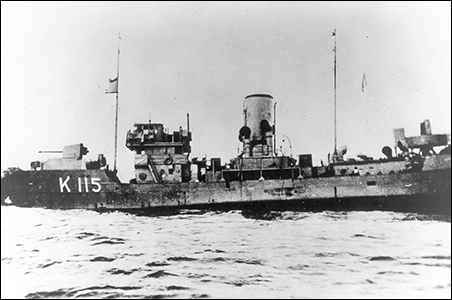 At 01:00 UT on 19 September, Kentrat tried several times to maneuver U-74 into attack position on the starboard side of the convoy, only to be "driven off" each time by SC-44's defending corvettes. They didn't pursue for long, but Kentrat became concerned that his own U-boat was too visible "in these conditions." (In those days, submarines were only occasionally submerged.) He decided to maneuver "to the port side of the convoy, where the Northern Lights [were] less bright."
At 03:50 UT, Kentrat radioed, "Brandenburg boats report in immediately." (He did not know at the time that the other U-boats had been receiving his radio messages; he just hadn't been receiving theirs.) At 05:03 UT, from the unusually long distance of 3 kilometers, Kentrat ordered four torpedoes fired in spread formation at the convoy. Afterward, U-74 quickly turned around to escape, and Kentrat ordered a fifth torpedo fired from the stern. Monitoring the results through his periscope, Kentrat reported a direct hit, "a plume" and "green light." A torpedo had struck the stern of the Lévis, nearly cutting her in two. Afterward, Kentrat recorded detecting a desperate Morse code signal: "help."
Hours later, the Lévis sank. Of the ship's complement, 18 died and 40 were rescued." – https://eos.org/features/the-geomagnetic-blitz-of-september-1941
As I write tonight, solar winds unleashed from a wide Earth facing coronal hole are expected to reach Earth by September 20. Science predicts geomagnetic storms over the next few days. Other than brilliant high latitude auroras, it isn't likely many will even notice. Nor is it likely a cautionary tale of the Geomagnetic Blitz of 1941 will register as anything but a page in history.
In my mind, space weather events are the least known, least taught and least acknowledged. I don't get it. Over and over again, irrefutable accounts of solar assaults languish in obscurity.