New research by Eleanor Caves at Duke University suggests most species view the world in less detail than us Comparison of visual acuity in 600 species of animals, birds, fish and insects conclude humans see fine detail elusive to most species. Based on spacing and density of light sensing structure in eye anatomy, the study measured acuity in terms of cycles per degree, translation – how many pairs of black and white parallel lines a species can discern within one degree of the field of vision before they turn into a smear of gray.
Average human eyes resolve 60 black/white cycles per degree of acuity. Anyone with less than 10 cycles per degree of acuity is legally blind. Most insects can't see more than one degree of acuity. Fish and birds hover around half the visual acuity of humans. (One exception birds of prey – Australian web tailed eagles boast 140 cycles per degree )) Cats and dogs perceive 7 times less visual detail, slightly more than goldfish, significantly more than rodents.
Evolutionary perfection compensates lack of visual acuity with species specific tweaks of survival fancy. Sight as we know it is not the measure of life on Earth.
https://www.smithsonianmag.com/smart-news/humans-see-world-100-times-more-detail-mice-fruit-flies-180969240/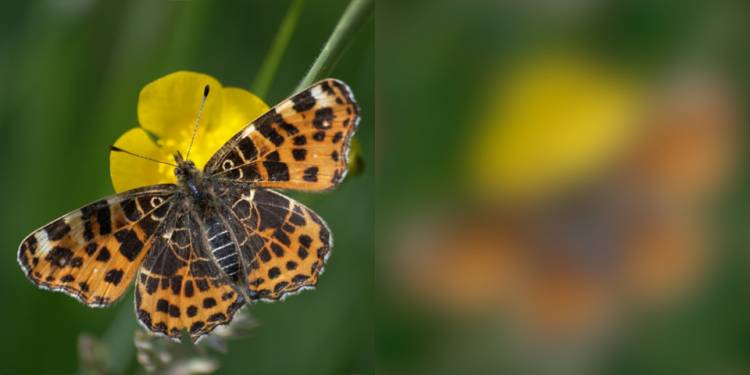 The image on the left shows the wings of a map butterfly as they might look to a jay looking for a snack, and on the right, to another member of its kind, such as a rival or potential mate. Image courtesy of Eleanor Caves
A spider web as seen in bird vision (left), and fly vision (right). The zigzags on the spider's web send a secret message to birds that their insect prey can't see, even from less than a foot away. Image via Eleanor Caves.