Asteroids make no apology for sneakiness. February 2013, Chelyabinsk Russia, a unknown 20 meter wide meteor traveling at 18 km/second began to tear apart at an altitude of 35 kilometers. Beneath the meteor's path shock waves knocked people off their feet. In the city of Chelyabinsk windows in over 3,600 building shattered. Over 1,200 people treated for injuries, a fireball 30 times brighter than the sun arriving without warning. A swath of destruction unleashed by a rogue 20 meter space rock.
https://en.wikipedia.org/wiki/Chelyabinsk_meteor
Five days ago the ATLAS sky survey in Hawaii discovered 2018 RC, a near earth asteroid estimated at 32-71 meters. Later today 2018 RC will come within 220,000 km, roughly half the distance between earth and the moon. As potentially hazardous asteroids go that's freaking close. There's no chance 2018 RC will hit earth. That said, asteroids are sneaky.For all the eyes cast at all the skies astronomers detected 2018 RC 5 days ago, Chelyabinsk came without warning.
The Virtual Telescope Project invites us to ponder2018 RC live.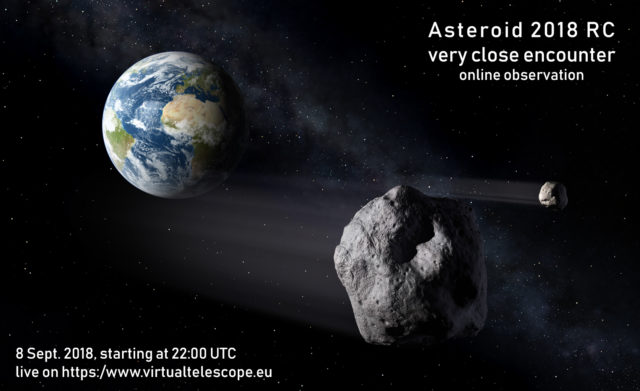 https://www.virtualtelescope.eu/webtv/
At 6 pm eastern daylight time the Virtual Telescope Project invites everyone to watch live images of 2018 RC. To participate click on the link above.