If the Republic of Turkmenistan draws a blank you're not alone. Geography of the former Soviet Union and Central Asia lean toward murky guesses at best. If it helps Turkmenistan is bordered by Kazakhstan to the northwest, Uzbekistan to the north and east, Afghanistan to the southeast, Iran to the south and southwest, the Caspian Sea to the west. Annexed by the Russian Empire in 1881, named Turkmen Soviet Socialist Republic in 1925, Turkmenistan gained independence in 1991 upon dissolution of the Soviet Union. Today, with a population of barely 6 million, Turkmenistan is one of the most sparsely populated places in Asia.
In 1971 Russian geologists thought they'd found a substantial oil field near the village of Derweze, Turkmenistan (commonly know as Darvaza) Engineers quickly moved in, made camp and started drilling to assess oil reserves. What they found was a massive natural gas pocket, the ground collapsed swallowing drill rigs and the work camp. Worried lethal methane gas could poison nearby residents, authorities set the pit ablaze. They thought it would burn itself out in a few weeks. Over 50 years later, fire rages on.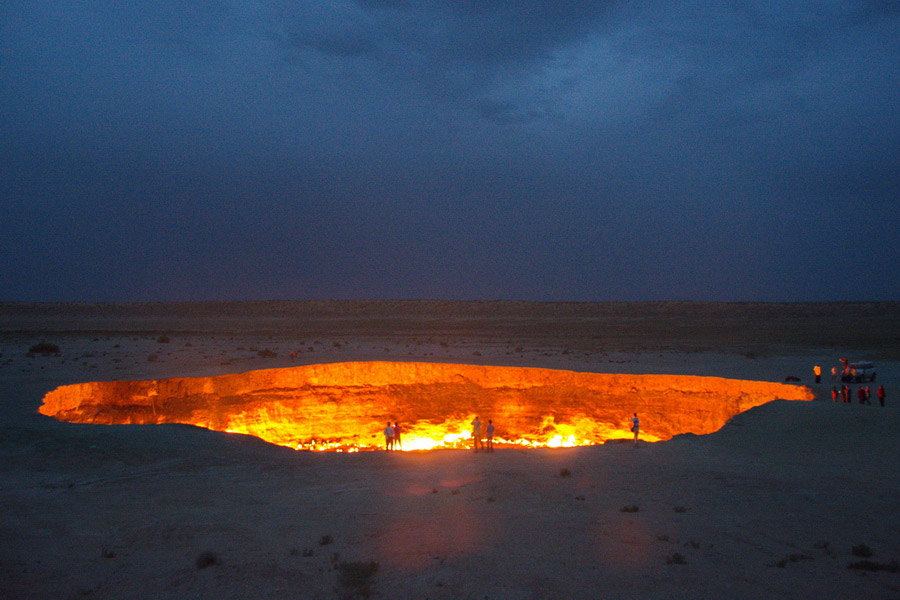 https://news.nationalgeographic.com/news/energy/2014/07/140716-door-to-hell-darvaza-crater-george-kourounis-expedition/
Known today as the gate or portal to Hell, virtually all tourism in Turkmenistan is attributed to viewing the Darvaza Crater. No one knows how long it will burn, but geologists suggest it's one of the largest natural gas reservoirs in the world.