On Sunday September 27, 2020 the New York Times gave readers a glimpse into Trump tax shenanigans. Media sources worldwide ran with revelations Trump avoided paying taxes for much of the past 20 years, paying only $750 in both 2016 and 2017. Bombshell? Not really. Taxation isn't fair, scores of tax lawyers exist for the sole purpose of billing $1,000 an hour to keep wealthy client money out of federal coffers.
Rather than cluck over Trump paying a mere $750 in 2016 and 2017, ponder this deduction – while working on "The Apprentice" Trump claimed to have spent $70,000 on "hair styling" , writing it off as a business expense. Daughter Ivanka claimed $100,000 in hair and make-up expenses paid to Trump "entities" during the same time period.
Never mind Trump telling Playboy in a 2014 interview that he wouldn't let anyone other than Melania cut his hair, I digress. Great link from Town & Country below…..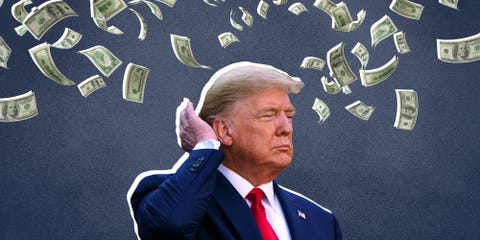 https://www.townandcountrymag.com/style/beauty-products/a34211607/donald-trump-hair-expense-tax-return-scandal/
Why should hard working school teachers, nurses, bus drivers or municipal employees subsidize Trump's follicle farce by paying their fair share of taxes? Who decides outrageous "celebrity" vanity is a justifiable tax credit? Who audits this crap? Concurs Trump's asinine comb-over worthy of a $70,000 business expense? Sweet mercy. Enough!