Never let it be said Donald Trump disappoints his congregation. Last Tuesday Trump nation gathered in Orlando, Florida to hear their pernicious saviour announce his 2020 re-election campaign. Captivated by magnitude of tRump greatness, the faithful unleashed boisterous cheers every time their swami snarled "Hillary", chanting "Lock her up" with back slapping enthusiasm. In the words of Charles P Pierce, Esquire Magazine –
"By one count, he mentioned her seven times in 30 minutes, including doing a pathetic imitation of HRC during one of their debates, while barely giving Joe Biden and Bernie Sanders a couple of drive-bys. The rest of the speech consisted of one more of the president*'s endless attempts to keep his Velveeta-brained gobshites on fire for him. "-https://www.esquire.com/news-politics/politics/a28099381/donald-trump-2020-campaign-rally-florida-hillary-clinton/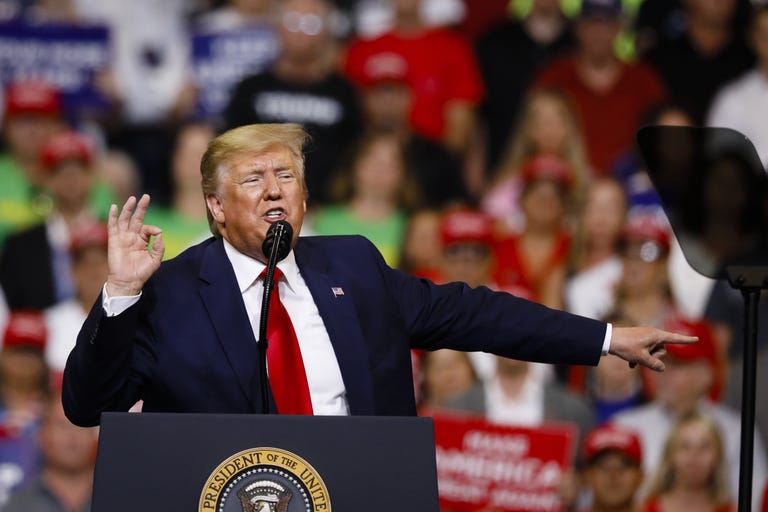 MAGA attire peppered the crowd of extremists, conspiracy theorists, puffed up red necks, Christian fundamentalists and self proclaimed patriots. Outside, the Proud Boys (see link below) sent megaphone postcards –
"When you come out here, it's a brotherhood. It's a family. It's like being at a revival, man," Joe Biggs, a Florida-based Proud Boys member, could be heard telling another right-wing activist about the Trump rally.
A short time later, journalists filmed the Proud Boys in much larger numbers as they marched through the streets, chanting, "Pinochet did nothing wrong!" The slogan, popular among white supremacists, is a reference to former Chilean dictator Augusto Pinochet's practice of murdering leftists by throwing them out of helicopters." – Christopher Matias, HuffPost US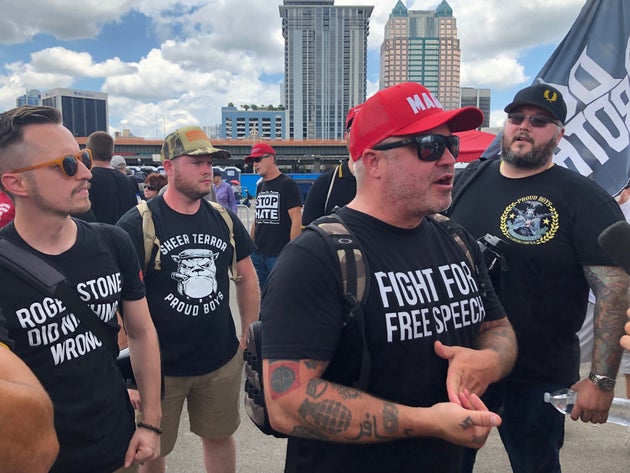 https://www.huffingtonpost.ca/entry/donald-trump-orlando-proud-boys-qanon-infowars-extremists_n_5d0a2f14e4b0f7b7442a11ca
Inside tRump frothed –
"A vote for any Democrat in 2020 is a vote for the rise of radical socialism and the destruction of the American dream," he said, ripping "radical" and "unhinged" Democrats even as he made only passing mention of any of the men and women running to replace him."
"And he painted a disturbing picture of what life would look like if he loses in 2020, accusing his critics of "un-American conduct" and telling the crowd that Democrats "want to destroy you and they want to destroy our country as we know it." – https://globalnews.ca/news/5403729/trump-2020-reelection-launch/
Hillary, Hillary, Hillary – mantra of the greatest disaster in American history.