Shout out to my friend Roger, but for his Facebook post I might never have known fast food and sleep deprivation cause homosexuality. See these burgers laughing? That was me until realizing this wasn't a joke.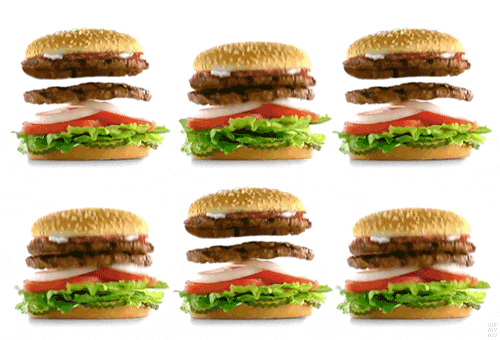 Rita Strakosha published Modern Diet and Stress cause Homosexuality: A hypothesis and a potential therapy  
According to Rita, the LGBTQ inclined suffer from higher rates of "eating large amounts of high glycemic index foods and fat, or eating an imbalanced diet, leaning toward carbohydrates.". Adding, "Some studies show an increased rate of obesity among homosexuals". "Gay men, lesbian and bisexual women report a higher odds of sugar-sweetened beverage consumption than straight men and women." To "stay straight", Rita urges people to "steer clear of food that can be disruptive right before sleep, like heavy or rich foods, fatty or fried meals, spicy dishes, citrus fruits and carbonated drinks." Who is this woman?
Rita Strakosha validates preposterous with her Albanian University Masters degree in Clinical Psychology – check your inbox Rita, we're not impressed. Bat shit is bat shit no matter how you slice it. Delusional as Rita may be, it would be unkind to overlook her learned solution to the homosexual problem. Less qualified Albanian clinical psychologists might have identified the cause of homosexuality and walked away – not Rita.This little lady identified contributing factors linked to homosexuality -restricting fat, sugar and alcohol coupled with a good nights sleep to prevent homosexual tendencies, then delivered a prescribed course of sexual hibernation. Oh Rita, are you really this stupid?
For those "turned gay" and desperate to lead straight lives, Rita recommends "sexual hibernation"- a period of healthy eating and abstinence to promote "sexual extinction".
"Upon re-wakening of sexual interest, the response to the previous sexual stimuli will not restart at once and at the same level as previously," Strakosha affirms. "Time would be needed to achieve the same level as before hibernation. Discontinuation of hibernation would be an opportune time for sexual orientation change." "Persons with a longer history of homosexual attractions and those with stronger prenatal or genetic factors would have more difficulty in achieving benefits from this therapy," – no shit Rita!
https://www.queerty.com/study-claims-fast-food-consumption-sleep-depravation-cause-homosexuality-20170530